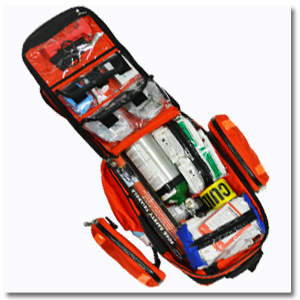 Vehicle Emergency Back Pack: 7111Fill2
A true emergency back pack with a wide variety of uses from urban to wilderness rescues. A must have for all rescue vehicles. Main compartment is fully padded with closed cell foam for protection.

Silk-screened with a white "Star of Life". Made of 1000 denier Cordura®nylon with a #10 YKK heavy duty self repairing nylon zipper. The main compartment flap as an 18" slot pocket and six attached clear vinyl compartments. Will hold a "C" or "D" size oxygen sleeve or may be rearranged without an oxygen tank. Six small pockets, 1 long pocket, 1 "D" oxygen sleeve. Measures 11" W x 20" H x 6" D. Wt. 44 oz.

Color: Orange, Navy, or Black
(black does not have a Star of Life or reflective trim)

7111: Bag only, no contents.


Click for Contents


Order#
Item
Unit
contents
Price
7111Fill2
Vehicle Emergency Bag
1
included
Call for Price
7111
Vehicle Emergency Bag
1
not included
Call for Price
7111-9P
Vehicle Emergency Bag: same as above except
9 small pockets,no oxygen sleeve
1
not included
Call for Price