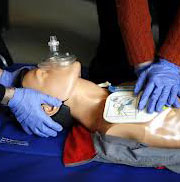 CPR/AED Training
The current save rate in Ohio for Sudden Cardiac Arrest patients is only 8%. Northwind Safety offers a training program modeled after the rescue program taught in the City of Seattle. Seattle leads the nation in saving patients from sudden cardiac arrest with a save rate of 50%; three times better than any other city in the nation. Our classes prepare individuals to handle a medical emergency in a work environment during the first 10 minutes of an event, or until paramedics arrive.

This course meets OSHA standards CFR 1910.151(b).
Best course I have ever seen presented for the targeted group. Far exceeded
my expectations."
•Chuck Finley, Safety Director & EMS Coordinator, Dupont

"The best CPR training I've ever attended (and I was first certified 30 years
ago!) By drawing on his personal history and using storytelling, the trainer
was engaging throughout and even made the parts I've heard many times
sound fresh."
• Will H., The Ohio State University
CPR Programs
CPR & Automated External Defibrillator (AED) Training
- (3-4 hour) This training course includes hands-on CPR training in addition to training with your brand AED.
Refresher CPR
- (1-1 1/2 hour) Practice only program.
Defibrillator Orientation
- (1 1/2 hour)
Standard CPR
- (2-3 hour) Adult CPR Training
Advanced CPR
- (2 1/2-3 hour) Adult CPR using a manikin
Standard CPR, Oxygen
- (3-4 hour) Adult CPR Training including Oxygen administration
Standard ERT, CPR, Oxygen & Defibrillator Training
- (5 hours) Our most popular course covers primary assessment, oxygen administration, advanced CPR with manekin, and defibrillator demonstration including student practice.
Contact us by email at
customerservice@northwindcorp.com
to schedule a class.
Watch this video and see how a workplace training helped a man save his son from a
horrific accident.