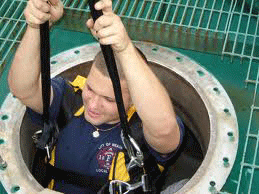 Confined Space Training
Over 1 1/2 million workers enter confined spaces on an annual basis. Serious injury or death in a confined space can be the result of asphyxiation, engulfment, electric shock, falls, and heat stress. This poses a serious problem for exposed workers and their employer. The Occupational Safety and Health Administration (OSHA) estimates that 85 percent of these accidents can be prevented by initiating proper safety precautions such as educating workers or posting danger signs and caution signs. The OSHA Confined Space Standard establishes uniform requirements to ensure that the hazards of confined spaces in U.S. workplaces are evaluated, safety procedures implemented, and that the proper hazard information is transmitted to all affected workers.

Northwind provides comprehensive training so your workplace will be in full compliance with OSHA Code.