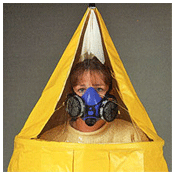 Respirator Fit Testing
Northwind's Respirator Fit Testing provides those conducting or overseeing fit-testing with the knowledge and techniques necessary to successfully conduct qualitative and quantitative respirator fit testing. Our hands-on activities teach attendees to properly conduct fit testing according to the OSHA protocols. A review of the requirements of the OSHA respiratory protection standard (29 CFR 1910.134) is included, with focus on those issues pertaining to fit-testing and respirator selection.


Masks include:
• Half Mask
• Full Mask
• SCBA
Northwind offers a variety of testing methods:
• Qualitative Testing
• Quantitative Testing

Northwind provides a variety of forms:
• Saccharin Solution Aerosol
• Isoamyl Acetate Fit Test
• Bitrex Solution
• Irritate Smoke Test


We provide a variety of Services:
Hydrostatic, Ultra-sonic and refill services are also available
on all types of cylinders for SCBA and rescue devices.

Tests require approximately 20 minutes to complete.