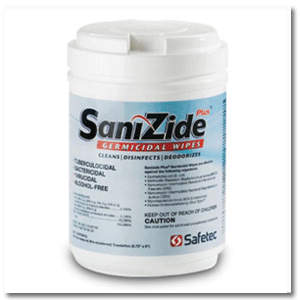 SaniZide Plus® Germicidal Wipes:
9033
SaniZide Plus®Germicidal Wipes are the newest addition to the Safetec arsenal in the War Against Germs. Our pre-saturated hard surface wipes kill TB, MRSA, VRE, E Coli and more in 10 minutes and HIV-1 in 2 minutes. When you reach for a SaniZide Plus® Wipe you get a wipe that is clean wipe after wipe. Our towelettes leave behind virtually no lint or particles to scratch or contaminate surfaces. Our dual quat, alcohol free formula is non-flammable, safe to ship and non-corrosive on surfaces. SaniZide Plus®wipes are ready-to-use, convenient and user-friendly.
Made in USA. 160ct Canister.