Our VITAL Director Program Means Peace Of Mind For You!
Northwind's VITAL Director Program takes the stress out of owning and maintaining your AED. Because AED owners are required to track maintenance checks, problems, fixes, and training records, we make sure you are in compliance at all times. And we provide the physician prescription required by most AEDs.

Northwind's regular AED maintenance means checking the AED for readiness:
The battery is charged.
The pads are not expired.
The AED and its accessories are in good condition.


Because we sell all major brands, there is no need to look further for your pads and batteries,and when you have our First Aid Service, we will check your AED monthly for free. Every six months we will perform Battery Insertion Test (BIT), check expiration dates for pads and batteries and inspect for signs of damage. Trusting Northwind with your AED oversight insures that you are not only ready for any emergency, but also your warranty is in force and you are in compliance with all federal and state regulations.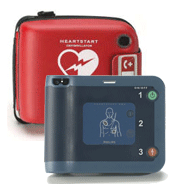 BENEFITS OF MEDICAL DIRECTION
Data Management System Set-UP
Emergency Response Plan Assistance
AED Placement Analysis
State and Local EMS Notification and Coordination
AED/CPR Training Records Maintenance
AED Tracking by Location
Battery & Electrodes Tracking
Event Data Submission
Federal And State Laws and Regulation Compliance Assistance
Semi-Annual Bit Test Review
Software Updates
Battery and Electrode Replacement
Post Event AED Fast Response Kit Restock