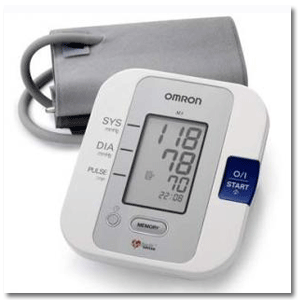 Omron® Intellisense™ Digital Blood Pressure Monitor: 13-230
This monitor automatically inflates with the push of a button. And only Omron blood pressure monitors have IntelliSense® technology to automatically determine the correct amount of pressure required to quickly and comfortably measure your blood pressure reading. The result is accurate measurements every time.

The IntelliSense® Monitor inflates the cuff to the ideal level with each use. No adjustments are required by the user to select an inflation level. This is especially convenient for hypertensive users and for people with certain arrhythmia or heart disorders, because their blood pressure is likely to fluctuate. The advantage is Personalized Inflation for maximum comfort.