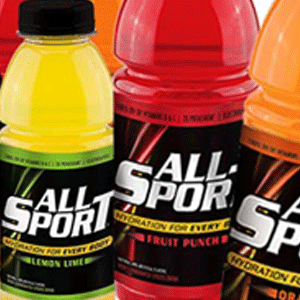 All Sport® Sport Drink
With 100% Daily Value of Vitamin C, B3, B6 and B12, almost ½ the sodium* and 2x the potassium* in every bottle, ALL SPORT is premium hydration for every body. Whether you wear a hard hat, carry a briefcase or juggle kids, ALL SPORT will do what it does best: Hydrate and replenish when your body needs it most. More potassium than Gatorade and Sqwincher. Sugar free options, "Zero" available.
Great Taste, Great Price!
Call us today for free samples!
| | | | | |
| --- | --- | --- | --- | --- |
| Order# | Item | Unit | Case | Price |
| 12-490 | Freezer Pops Variety | - | 144/cs | Call for Price |
| 12-475 | Powder-Blue Raz | 2.5 gal. | 32/cs | Call for Price |
| 12-476 | Powder-Lemon Lime | 2.5 gal. | 32/cs | Call for Price |
| 12-477 | Powder-Orange | 2.5 gal. | 32/cs | Call for Price |
| 12-478 | Powder-Fruit Punch | 2.5 gal. | 32/cs | Call for Price |
| 12-479 | Powder-Grape | 2.5 gal. | 32/cs | Call for Price |
| 12-480 | Powder-Variety | 2.5 gal. | 32/cs | Call for Price |
| 12-497 | Bottles-Fruit Punch | 20 oz. | 24/tray | Call for Price |
| 12-496 | Bottles-Blue Raz | 20 oz. | 24/tray | Call for Price |
| 12-466 | Zero Sticks-Blue Raz | - | 50/box | Call for Price |
| 12-467 | Zero Sticks-Fruit Punch | - | 50/box | Call for Price |
| 12-468 | Zero Sticks-Lemon Lime | - | 50/box | Call for Price |
| 12-469 | Zero Sticks-Orange | - | 50/box | Call for Price |
| 12-470 | Zero Sticks-Grape | - | 50/box | Call for Price |
| 12-483 | Zero Powder-Variety | 2.5 gal. | 30/cs | Call for Price |