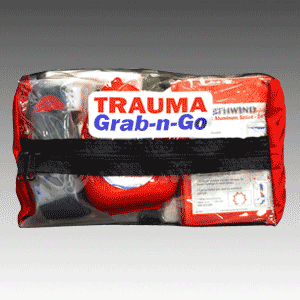 Click for Contents
Trauma Grab-n-Go Bag -Class A to B Upgrade
Item: 7026-TB
In an emergency, quickly grab this kit from your first aid cabinet and go wherever it's needed. Contains items necessary for many trauma situations.

Administer CPR Safely - CPR Face Shield for protected mouth-to-mouth resuscitation.

Manage Pain and Illnesses - Several medications to treat pain, inflammation, and common allergies.

Prevent Shock - Silver blanket reflects 90% of radiated body heat.

Reduce Swelling - Instant cold pack to manage swelling of fractures and sprains.

Stabilize Fractures and Sprains -Splint plus a wide variety of wraps and bandages to immobilize fractures and provide support.

Control Blood Loss -C.A.T. tourniquet, plus Celox blood clotting agent.